An intense 4 hour cannabis training for California dispensary jobs, with certification test, to prepare you to work in a California Dispensary. Learn the NEW California Cannabis Laws and the science behind cannabis. We currently do not have any classes planned for California until the licensing get further along.  Our class is 90% the same from state to state so, get our upcoming dispensary training schedule and plan a road trip, or register with HempStaff to be notified when dispensary training is in your area.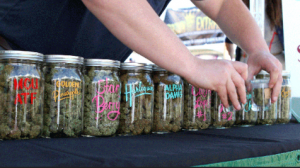 This is a Professional Training Course to teach you what you need to know about cannabis and your NEW California Cannabis Laws to assist you when applying to California Dispensary Jobs. You will be working with cannabis consumers in this position and must understand the cannabis as medication before you start assisting others. Even in an adult-use state the majority of cannabis customers are looking for some type of medical relief from cannabis.
The material is presented in a fast paced, 4 hour course with a summary exam at the end to get your certificate of completion. The goal of this class is to help you understand the industry and the medication which will help boost your resume with the knowledge you need to speak intelligently when you land that interview for an opening at a dispensary in the near future.For those with no legal experience to put on a resume, training increases your chances of getting a job in the marijuana industry! On average, a Marijuana business owner gets over 200 resumes for every opening they post. With this training on your resume – you WILL stand out from the crowd!
In 1996, California voters passed Proposition 215, making the Golden State the first in the union to allow for the medical use of marijuana. Since then, 22 more states, the District of Columbia and Guam have enacted similar laws. On October 9th, 2015, Gov. Jerry Brown signed a package of bills that comprise the California Medical Marijuana Regulation and Safety Act (MMRSA) to regulate the California medicinal-cannabis industry.
Some highlights of these new laws, which went into effect until Jan. 1st 2018, are the following:
~ Allow for-profit businesses to obtain operational medical marijuana licenses from the state.
~ Establishing the Bureau of Medical Marijuana Regulation
~ Setting up 17 different kinds of medical marijuana operational license types and prohibiting vertical integration
~ Allow cities and counties to ban medical marijuana businesses within their borders
~ Set forth the requirements for marijuana deliveries in California
~ Tasks the California Department of Pesticide Regulation with dealing with pesticide usage and safety
~ California State Department of Public Health to develop standards for producing and labeling all edible medical cannabis products
~ Makes it a misdemeanor for a physician to recommend medical cannabis to a patient and then to accept, solicit, or offer any form of remuneration from or to a state-licensed medical marijuana business
~ Mandates that applicants for any medical marijuana license must submit fingerprints to the Department of Justice for a criminal background check
~ All business proposed locations must be at least 600 feet from a school
~ The following will also be put in place: Tracing cannabis product, Record keeping, Anti-diversion systems for transporting cannabis product, Quality assurance testing standards, Robust labeling and packaging, Safe product handling, Security requirements
On Nov 8th, 2016, California voted and passed recreational marijuana as well, Residents may now use, possess and transport up to an ounce of marijuana for recreation, starting immediately.
Currently California is in the process of issuing licenses under this new regulatory system.  Currently there are still hundreds of non-licensed dispensaries and grows running illegally in CA.  Many have been sent cease and desist letters, but there are still unlicensed dispensaries running even with the new regulatory framework, the board is still in the process of shutting unlicensed operations down.
Follow these links for more information on California Cannabis Laws or California Hemp Laws.
Some states call it a Budtender, Dispensary Agent, Compassion Care Technician or Patient Liaison. No matter what the title is, the job description is the same – it is the person that works behind the counter of a marijuana dispensary and here at HempStaff, we believe they need to be trained. They are the product specialists whose main responsibility is to be an expert on cannabis products. This person must be trained to work with cardholders and help educate patients on how cannabis can alleviate some of their medical symptoms. Dispensary agents must be able to not only work with cardholders on the products that may work best but also how to use these products and what the appropriate dosages should be.
After passing the cannabis training for California dispensary jobs, HempStaff offers you a resume review to help you get your document looking the best that it can before you start sending it out for posted positions. And of course, when our recruiters are contracted to fill entry level dispensary agents or cultivation site workers, we review our student's resumes and contact them first!
When Dispensary owners need to hire employees to work in their marijuana dispensaries, they know our certified students are exactly what they are looking for in terms of initial knowledge of the job functions! HempStaff is known as one of the the go to companies for cannabis training for California dispensary jobs. We are the ONLY Dispensary Training Course that employs someone with 3+ years of legal cannabis experience, including dispensary management experience, as their head trainer! We know the value of having our students able to ask questions that only someone with this much experience can actually answer.
Please Note: You can NOT put ANY illegal experience on your resume for a job in the marijuana industry! Unless you have experience working in a dispensary, this training will be what you can put on your resume to let employers know you have the knowledge and ambition they are looking for when selecting candidates to interview. It shows you have the motivation to obtain professional training in the subject of marijuana and truly desire to be the best MMJ Dispensary Employee you can be!
What you will learn in this cannabis training for California dispensary jobs:
Laws and what to expect in Marijuana Dispensaries

How Marijuana helps patients and the power of different cannabinoids and terpenes

Marijuana and the symptoms that it can minimize or alleviate

All Marijuana products that may be available and how to direct a patient to use them

How to recommend the appropriate Marijuana dosage

How to greet new patients, interview them, understand their needs and recommend the most appropriate Marijuana product and dosage to help them have a positive experience

The Endocannabinoid system: Learn how this little known system in your body uses the cannabinoids to help alleviate ailments

The main cannabinoids in cannabis (THC, CBD, CBN, etc) and what each can do for your patients

The ailments/diseases cannabis can be recommended for and which cannabinoids / terpenes work best for symptoms associated with these diseases

How to manage Point of Sale systems, Inventory Systems and Security in the Cannabis Industry

A Day in the Life of a Dispensary Employee (Budtender)

Our trainer, with years of experience working in a marijuana dispensary, will teach you what you need to know to be a knowledgeable, compassionate and professional Marijuana Employee in this new exciting industry.
Our course manual was reviewed and revised in January of 2019 by a Diplomate of the American Academy of Cannabinoid Medicine, Dean's Professor of Cannabis Education at the Substance Use Disorder's Institute and teaches a cannabis certification course for physicians and pharmacists. He is also a cannabinoid research scientist in the Department of Biology at Wm Patterson U. Our trainers have years of experience working in the cannabis industry and managing a dispensary, with plenty of inside information on how this industry works! Learn from someone who has been working with marijuana for years! Since they work in the marijuana industry every day, they have the most current information and product knowledge. They have already gone through the growing pains of the  Marijuana program and start up in their home state, so you will learn what to expect from their first hand experience. This cannabis training for California dispensary jobs will also have a question and answer session as well, so bring all your questions regarding marijuana dispensaries!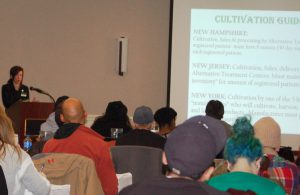 At the end of the cannabis training for California dispensary jobs you will be given a 20 question exam that you must pass with 75% in order to get your HempStaff Certification for California dispensary jobs. There is no state approved certification for Dispensary Training in most states yet, as it is still Federally Illegal, but we believe training is essential in order to allow this industry to succeed and help our patients get the relief they need! When clients come to us with open positions for their dispensaries, or even when you apply on your own, the hiring manager can be assured you have had the proper training. We have heard from many dispensary owners that our Certified Students are amongst the most knowledgeable they have interviewed / hired and they will look for those candidates first in their pile of resumes.
We know that laws are constantly updated in the early months of the MMJ program. That's why, once you take our professional training class, you are welcome to return to any future training session, based on availability, at no charge! The HempStaff Certification was created so that we can be sure that any candidate we send to our client for an interview is trained and qualified. In addition to any possible job openings through HempStaff, students are encouraged to list the HempStaff Certification and Training as education/professional training on their resume when applying for industry jobs on their own. Many of our students have used our network to search out their own opportunities and obtained jobs on their own, several dispensary owners have attended our classes as well – so we suggest business casual attire. There are many opportunities to explore once you are properly trained! Now is the time to get cannabis training for California dispensary jobs and get into this industry before it explodes nationally in the next couple years!