Cannabis Staffing 101: Hiring Quality Employees for Your Dispensary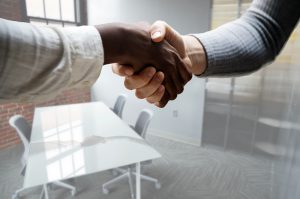 The cannabis industry is booming. As more and more states are legalizing cannabis for medical and recreational purposes, dispensaries are becoming a big business.
Most dispensaries start small, with just a handful of employees, but as demand grows, so does the dispensaries need for help. The cannabis industry has its own unique demands on employees. Good help is hard to find, as they say. Luckily, if you are a dispensary owner or dispensary manager, we have put together a guide on cannabis staffing to help you with the hiring and managing process.
Setting Your Company Culture
The first and most important part of expanding your staff is to know what your company's goals, work culture, and other expectations are ahead of time.
Having a clear vision of your dispensary's growth and its brand identity can act as your compass for the rest of your decision-making down the road and make cannabis staffing easier.
Obviously, happy employees are good employees. Focusing on creating a positive and supportive environment can go a long way towards making sure your staff show up on time and in a ready-to-work mood.
Below are some steps you can take towards creating a company culture that fosters good vibes and good service.
Have A Mission Statement
People work better when they have a purpose and meaning to their work. Think about why you got into the cannabis industry and the people that you want to serve with your business, then express this in a statement of one or two sentences.
Set Clear Expectations
Writing up an employee handbook will save you a lot of headaches down the road and take the stress from your employees. No one likes being in the dark, so having all your rules and standards in one place keeps everyone on the same page.
Create A Friendly and Supportive Atmosphere
Your employees will be much happier if they know you have their backs. Look into offering incentives and benefits such as paid time off, sick days, insurance, and more. Healthy employees are happy employees.
Do not neglect to treat your employees to other perks such as discounts, lunches, and staff parties for holidays and birthdays. These go a long way towards making your staff feel appreciated!
Cannabis Staffing: Who To Hire
You have set your expectations, envisioned your dispensary's company culture, and put employee benefits into place. Now it is time to bring people on to your staff.
Knowing how to spot a future team player with good customer service and the right knowledge for the job is tough, especially when you have nothing but a resume to start with.
When dealing with cannabis staffing, remember that this is an emerging industry. Not every potential star employee will have direct cannabis industry experience.
Instead, you want to look for people who have transferrable skills. These skills can vary depending on the position, so let us dive into some potential jobs you will want to fill.
General Dispensary Manager
Your general manager will be your right-hand person. General managers take a lot of the day-to-day burden off your hands as an owner and are invaluable for their on-the-ground management experience.
A good general manager will be able to wear many hats. They field customer complaints, manage staff and schedules, and maintain all the necessary financial and legal requirements a dispensary has.
When interviewing prospective general managers, make sure to emphasize problem-solving skills and the ability to multi-task in high-stress situations. This is a position you want to fill with someone who has proven experience.
Advanced knowledge of cannabis legal restrictions and experience handling large sums of money is also important, but training is available to catch an otherwise-experienced manager up to speed.
Receptionist / Budtender
These folks are the face of your business and your direct line to sales, so making the correct hire for your dispensary agents is crucial.
Retail experience is the most important thing to look for when hiring a budtender. You want someone who can handle cash as well as work face-to-face with customers.
A good budtender is outgoing, helpful, and friendly. Ideally, you will find someone with knowledge about cannabis products, but an eagerness to learn is also a plus.
Compliance Officer
An often-overlooked position when dispensaries are first getting off the ground, your compliance officer ensures that your business is navigating the tricky area of cannabis legality well.
While you are still growing, your compliance officer may be yourself or your general manager. Eventually, as you see increased demand, inventory and foot-traffic, you might want to investigate having this be a standalone position.
Inventory Manager
As your business grows, so will your inventory. Multiple contracts with distributors can start to get overwhelming. The last thing you need is an unorganized stock room and a store full of customers, or worse, an audit.
Enter the inventory manager. This is someone that has successfully managed inventory in a different industry, is familiar with the physical steps necessary to complete a full inventory and is proficient in managing your point-of-sale systems to ensure everything is where it should be.
Accountant/Financial Officer
This is another job that overlaps well with the inventory manager if you are looking to expand slowly (always the smart move).
Someone with experience in managing accounts payable, accounts receivable and is proficient in accounting software, will be a lifesaver to your business. Cannabis experience can be helpful in keeping up with the ever-changing cannabis tax laws but not necessary.
Other Positions
As your dispensary grows, so will your cannabis staffing needs. You might have housebound customers who are interested in having their orders delivered (if delivery is available in your state), so delivery drivers may be necessary.
A Marketing/Social Media Content Manager is almost a requirement in this day and age, as well. Advertising is extremely regulated and restricted in the cannabis industry. Each state has their own regulations so you will need someone familiar with the marketing IN the cannabis industry to be successful while avoiding the common pitfalls. Website content and social media postings, interactions and response time are extremely important in providing the best service possible for your customers.
Security is also especially important. Dispensaries handle large amounts of cash and marijuana products, which makes you a potential target for criminal activities. Hiring trained security officers and utilizing multiple security systems to prevent diversion, theft and robberies is required in each state.
Recruiting Good Staff
Many owners and dispensary managers are just too busy to comb through the 100-300 resumes that currently come in for each cannabis job openings. Remember, the cannabis industry is an emerging field and many people are looking for a way in.
Cannabis Recruiters, like HempStaff, can save you time and money by narrowing down hundreds of candidates to a qualified handful. Not to mention employees placed by recruiting agencies tend to stay longer as they do not want to look bad the recruitment firm in case they are in search of future employment. These are candidates who are qualified and vetted for your opening.
If you are worried about effective cannabis staffing, we have plenty of valuable resources on our website, including training courses and professional recruiting services. Feel free to contact us at any time!