While we do not have any classes planned covering Connecticut laws currently, our class is 90% the same from state to state, get our cannabis dispensary training schedule and look at the webinars, including our basic cannabis training course or register with HempStaff to be notified when dispensary training is in your area.
NOTE: ONLY IN CONNECTICUT, YOU MUST HAVE A PHARMACY TECH LICENSE TO WORK IN A DISPENSARY
Register with HempStaff to be emailed about future training courses.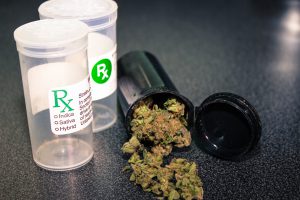 The goal of this class is to help you understand the cannabis industry and cannabis products, as well as help boost your resume and give you the knowledge you need to speak intelligently when you land that interview for an opening at a dispensary in the near future.
For those with no legal experience to put on a resume, training greatly increases your chances of getting a job in the marijuana industry! On average, a Marijuana business owner gets over 200 resumes for every opening they post! With HempStaff Training on your resume – you WILL stand out from the crowd!
Many owners across the nation have taken our course, and they all agree – they will look for HempStaff trained employees first when interviewing for entry level dispensary employees – as they know our course gives them the cannabis knowledge to help them succeed.  Certainly not every business owner has heard of us, but all owners can agree that some training is better than no training.
In Connecticut, patients may possess an amount of usable marijuana reasonably necessary to ensure uninterrupted availability for a period of one month. Approved Conditions include Cancer, glaucoma, positive status for human immunodeficiency virus or acquired immune deficiency syndrome [HIV/AIDS], Parkinson's disease, multiple sclerosis, damage to the nervous tissue of the spinal cord with objective neurological indication of intractable spasticity, epilepsy, cachexia, wasting syndrome, Crohn's disease and posttraumatic stress disorder.
Starting in August 2018, patients with migraines, rheumatoid arthritis and muscular dystrophy soon will be able to treat their ailments with medical marijuana in Connecticut as well.
Patients must be Connecticut residents at least 18 years of age. Prison inmates, or others under the supervision of the Department of Corrections, would not qualify, regardless of their medical condition. Patients who are currently receiving medical treatment for a debilitating medical conditions set out in the law may qualify for a temporary registration certificate beginning October 1, 2012. To qualify, a patient must also be at least 18 years of age and a Connecticut resident.
Draft Regulations on Medical Marijuana were posted on Jan. 16, 2013. On Apr. 3, 2014, the Connecticut Department of Consumer Protection announced the names and locations of the first six dispensary facilities that will be authorized by the state. The first dispensary opened on Aug. 20, 2014.
Dispensary Agents in CT must have a pharmacy tech certification. Some states call it a Budtender, Dispensary Agent, Compassion Care Technician or Patient Liaison. No matter what the title is, the job description is the same – it is the person that works behind the counter of a medical marijuana dispensary and here at HempStaff, we believe they need to be trained. They are the product specialists whose main responsibility is to be an expert on cannabis products. This person must be trained to work with cardholders and help educate patients on how cannabis can alleviate some of their medical symptoms. Dispensary agents must be able to not only work with cardholders on the products that may work best but also how to use these products and what the appropriate dosages should be.
Follow these links for more information on Connecticut Cannabis Laws or Connecticut Hemp Laws.
How will this course help you get a job in a Marijuana Dispensary?
1)  Training on your resume will get you noticed when you apply to a dispensary and lead to more interviews
2)  The knowledge you learn in class allows you to speak intelligently and speak to points the dispensary managers want to hear, giving you a much greater chance of landing the job.
3) When HempStaff clients come to us looking for Budtenders, our trained students, that live in their area, will be contacted first!
This training focuses on Dispensary Agents, or Budtenders, the person that works behind the counter of a marijuana dispensary. At HempStaff, we believe they need to be trained since they are the product specialists whose main responsibility is to be an expert on all cannabis products. This person must be trained to work with patients and customers and help educate on how cannabis can alleviate some of their symptoms. Dispensary agents must be able suggest which products may work best and also how to use these products and what the appropriate dosages should be.
We are the ONLY Dispensary Training Course that employs someone with 4+ years of legal cannabis experience, including dispensary management experience, as our head trainer! We know the value of having our students be able to ask questions that only someone with this much experience can actually answer.
Please Note: DO NOT put ANY illegal experience on your resume for a job in the marijuana industry! Unless you have experience working in a dispensary, this training will be what you can put on your resume to let employers know you have the knowledge and ambition they are looking for when selecting candidates to interview. Taking this training shows you have the motivation to obtain professional training in the subject of marijuana and truly desire to be the best Dispensary Employee you can be!
WHAT YOU WILL LEARN IN THIS CANNABIS DISPENSARY TRAINING FOR COLORADO:
How Marijuana helps patients and the power of different cannabinoids and terpenes
Marijuana and the symptoms that it can minimize or alleviate
All Marijuana products that may be available and how to direct a patient to use them
How to recommend the appropriate Marijuana dosage
How to greet customers and speak with them to understand their needs and recommend the most appropriate Marijuana product and dosage to help them have a positive experience
The Endocannabinoid system: Learn how this little known system in your body uses the cannabinoids to help alleviate ailments
The main cannabinoids in cannabis (THC, CBD, CBN, etc) and what each can do for your patients
The ailments/diseases medical cannabis can be recommended for and which cannabinoids / terpenes work best for symptoms associated with these diseases
How to manage Point of Sale systems, Inventory Systems and Security in the Cannabis Industry
A Day in the Life of a Dispensary Agent or Budtender
Our trainer, with 4+ years of experience working in a marijuana dispensary, will teach you what you need to know to be a knowledgeable, compassionate and professional marijuana employee in this new exciting industry.
There will be a question and answer session as well, so bring all your questions regarding marijuana dispensaries!
The HempStaff Certification was created so that we can be sure that any candidate we send to our client for an interview is trained and qualified. In addition to any possible job openings through HempStaff, students are encouraged to list the HempStaff Certification and Training as education/professional training on their resume when applying for industry jobs on their own.
Many of our students have used our networked, some even in our class, to search out their own opportunities to obtain jobs on their own. Dozens of dispensary owners have attended our classes as well – so we suggest business casual attire. There are many opportunities to explore once you are properly trained! Now is the time to get cannabis training for Colorado dispensary jobs and get into this industry before it explodes nationally over the next couple years!
Not ready to purchase a training seat yet?  Register with HempStaff to be emailed about future training courses.